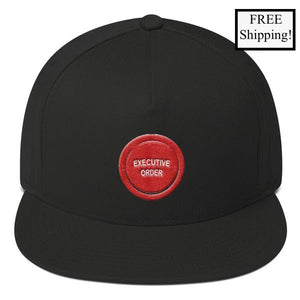 You've likely seen people wearing a MAGA hat every once in a while. Well, how about we start a silent army of our own, and show the irony in calling for a national emergency any time you want to pass something into law?
Instead of people wanting to punch you when they see this hat, the furthest people will aggress against you is having a compulsion to press the little circular button of irony.
(Although, we can't always predict the reactions of the enemies of free speech, so don't hold us liable if anyone treads on your rights).
Not only does a snapback cap complete your look, but it also keeps the sun out of your eyes. Get one with an embroidered design to further personalize your style and show everyone a subtle message.
100% Cotton Twill

:

both durable and comfortable

Structured, with 5-panels

: fits most heads with style

High-Profile

: make your presence known

Classic Snapback

: classic look with a snap closure in the back

Green Under-Bill

: fights against fascist sunlight glare