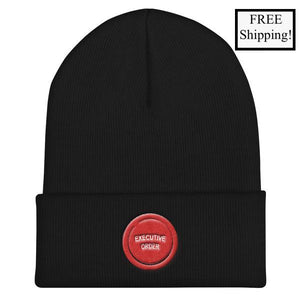 You've likely seen people wearing a MAGA hat every once in a while. Well, how about we start a silent army of our own, and show the irony in calling for a national emergency any time you want to pass something into law?
Instead of people wanting to punch you when they see this hat, the furthest people will aggress against you is having a compulsion to press the little circular button of irony.
(Although, we can't always predict the reactions of the enemies of free speech, so don't hold us liable if anyone treads on your rights).
Don't reach for just any beanie the next time you go out in the cold; fight the cold with a soft, warm beanie that features an embroidered liberty-themed design. An essential piece of winter headwear, and a perfect Christmas gift.
100% Turbo Acrylic

: holds its shape while keeping your head warm

Embroidered Design

: liberty stitched to perfection

Form-Fitting

: unisex style with snug fit, perfect for any free-thinker's head

Great Stretch

: cover your ears against the haters' ad hominems

Hypoallergenic

: the only allergic reaction will be from screeching pansies